Salzburg
We got up at 5:30 am to catch the train to Salzburg. Instead of calling a taxi we rolled our suitcases to the station in about 10 minutes. The train was on time and made 11 stops before reaching Salzburg. It was a scenic ride through the alps.
We were sitting in second class and had failed to reserve seats. The fare was 63 Euros ($70) for a 5 hour ride. We met a charming Austrian student onboard who was in the pharmaceutical program at the University of Zurich. She was going to Vienna to see her parents for a few days. 
From the train station we took a taxi costing 10 Euros to the ArtHotel Bleue Gans on Getreidegasse 41-43, the central pedestrian tourist street in Salzburg. The receptionist showed us the room on the 4th floor overlooking the street but told us it wouldn't be ready until check-in at 3:00.  The cheery, bright room was decorated with bright colors and windows overlooking the street.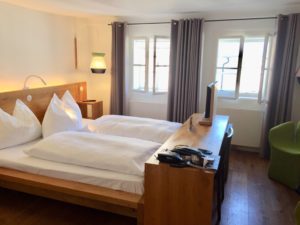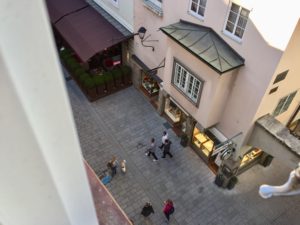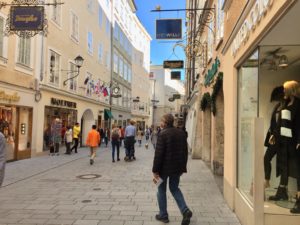 She suggested we go for a walk to Cafe Tomaselli, a well known spot in Salzburg. It was down the street from the hotel. We sat inside since outside seating was full. Everyone was enjoying the brilliant sunshine. We had hot chocolate with whipped cream, chocolate cake and the best plum strudel ever!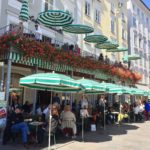 Our first night we had an 8:00 reservation at Pasta e Vino. We got there early at 7:30 and went into the bustling restaurant to reconfirm our 8:00 reservation. It was an extremely small restaurant resembling a casual deli. A young waitress said they were full. An older woman, probably one of the owners seemed unwilling to listen to me when I asked if we could reconfirm since I had made the reservation online. She dismissed me waving her arms and stating loudly that they were full and there weren't any tables. I spotted a table for two marked reserved as we were hustled out the door. We were in disbelief being treated so rudely and lingered near the door until a waitress approached us and we told her again that we had an 8:00 reservation. She asked us to wait outside for 10 minutes.
After 10 minutes the waitress waved to us to come in and we were seated at the table we had seen beforehand. We sat for at least 15 minutes or more before a waitress came over to the table. She was pleasant and explained there were no menus. They offered three different pastas (fish, meat and vegetable) and an antipasto for a starter. We opted for the antipasto, a fish pasta with carrots and flat beans and a meat pasta with pork, chestnuts and prosciutto in a cream sauce.
The antipasto was served with bread and there was an assortment of prosciutto, cheeses (fontina and romano), spinach, zucchini and fava beans. The platter was fresh and very good. Then it got interesting. We were barely finished with the antipasto when my pasta arrived with nowhere to place it since the table had not yet been cleared. Claude's pasta was nowhere in sight. I've never experienced anything like that in a restaurant except maybe in a takeout joint. I was flabbergasted. Claude thought it was the folklore of the place. The waitress quickly removed our plates. Claude still did not have his pasta but I started to eat my pasta while it was hot. It was delicious! It was as good as any pasta we've had in Italy. The waitresses and owners were Italian and Italian was the spoken language not German. Five minutes later Claude's pasta arrived. Again it was outstanding in flavor and the pasta cooked perfectly. The house wine was equally good. We didn't have room for dessert.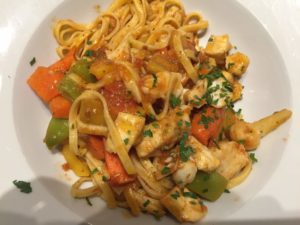 The conclusion about the restaurant is to go for the pasta and try to overlook the boorish and rude behavior of the owner. She turned multiple people away as we sat watching the entrance. It was also a Sunday night and clearly the staff wanted us to leave. No one else entered the restaurant after we arrived. It seemed early to close the kitchen after 8:00, but that's exactly what they did.
Salzburg Day 2 – 3
We had a proper breakfast at Mozart Cafe a few doors down from our hotel. We were the only ones there. It was raining out and Getreidegasse was empty until we saw a massive group of tourists approaching down the street. We immediately ducked into the doorway of the Mozart thinking it would be overrun, but the group continued down the street. Tourist groups were everywhere! An 8.60 Euro breakfast consisted of 2 rolls, butter, honey, jam, hot chocolate or coffee and one soft boiled egg with a piece of chocolate for a sweet ending – a good price for a very complete breakfast..
At noon we retraced our steps to make sure we hadn't missed anything in Old Town. Even though it was raining hard we didn't let it deter us from what we hoped to see with only three days in Salzburg. We walked to St. Blaise's Gothic Church which was closed. We continued on to the Horse Pond where horses were watered during the Middle Ages and then to St. Peter's Abbey, a Romanesque Hall to find it closed for renovations. St. Sebastian's Church was also closed so we never got to Mozart's family tomb. It's worth mentioning that many museums and tourist attractions are closed on Mondays. We were not discouraged and hurried to Cafe Habakuk (no pun intended) to have a divine apple strudel with whipped cream swimming in a Creme Anglaise sauce. Claude had a piece of Sacher cake with whipped cream and we washed both desserts down with a thick, delicious hot chocolate with even more whipped cream! That was lunch!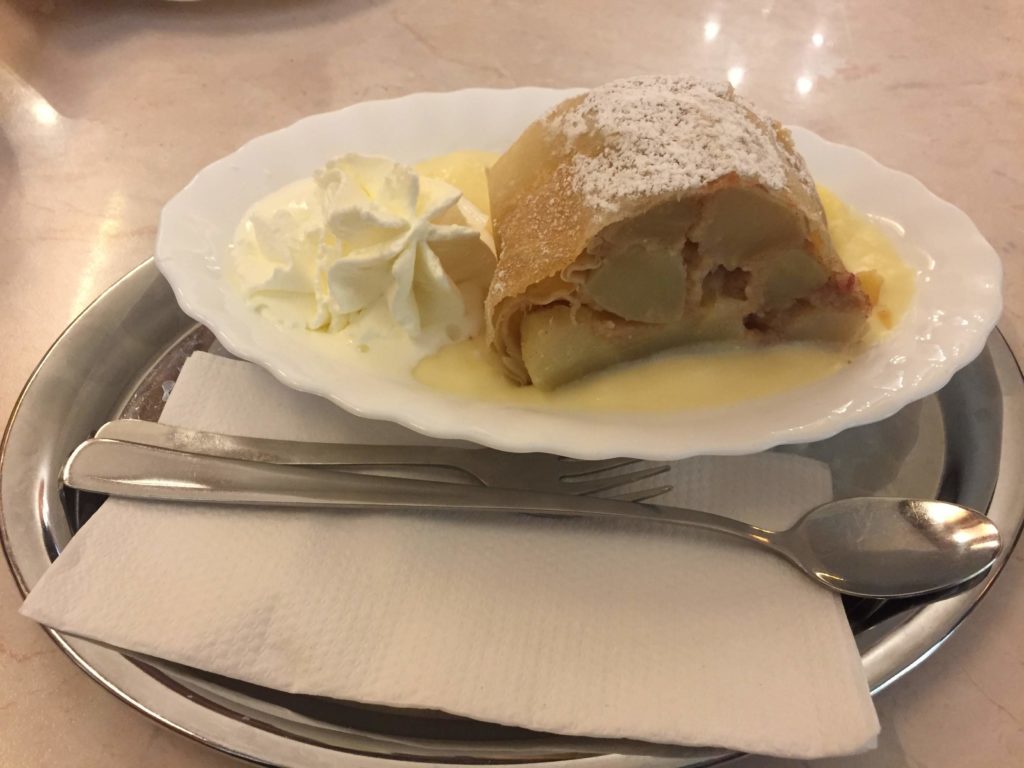 Our second dinner was at Zum fidelen Affen on Priesterhausgasse 8. The restaurant was housed in an ancient building with arched ceilings, wooden support beams and wooden wainscoting, typical of the period. 
The waiter was energetic, friendly and running around like crazy. There were only two waiters and a bartender handling two dining rooms filled to capacity. We both got the typical Austrian goulash and regretted it. It had a distinct aftertaste that neither of us liked. 
The following day we bought a 24-hour Salzburg Card for 28 Euros each which gave us free entry to a long list of museums and free public transportation including the funicular. We went to the Salzburg Museum and the Panoramic Museum which had a fascinating 360 degree view of Salzburg in the 1800s. We then visited Mozart's birth place on Getreidegasse and the house Mozart lived in which was much more interesting. There were two musicians there (a piano player and violin player) giving a free concert. They were obviously using the time as a practice session for a concert much to our enjoyment. The museum had display cases filled with letters written by Mozart and his family as well as family treasures.
We headed to the fortress opting for the funicular rather than walking up the steep incline to the top. It was crowded with tourists. We decided that it might have been better to have gone to the fortress first thing in the morning to avoid the crowds. The views over Salzburg were stunning.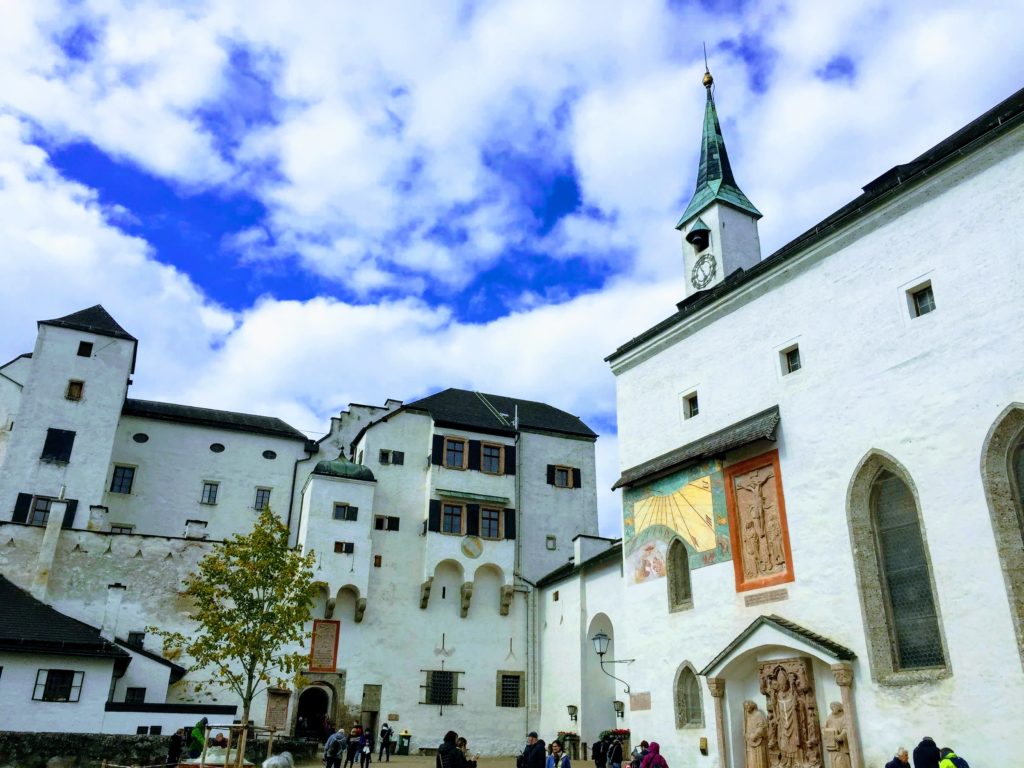 We had breakfast at the Mozart Cafe every morning since the location was convenient and the price very affordable. We were usually the only ones there at 8:00 am when it opened. It was an old fashioned cafe up a flight of stairs from the street frequented mainly by locals. 
Our last dinner was at Das Restaurant Wasserfall at Linzergasse 10. It was a more formal restaurant than the others and actually had a stream of water running through it which gave it a soothing, refreshing atmosphere. We had an early reservation at 5:00 pm since we had tickets for an 8:00 concert – a quintet playing Mozart, Giuliani and Vivaldi in the Marble Room at Mirabell Palace. The dinner was expensive and nicely presented, but not memorable. I had fish soup and salmon and Claude had the sea bass. We split a molten chocolate cake with whipped cream for dessert, which of course was the best part.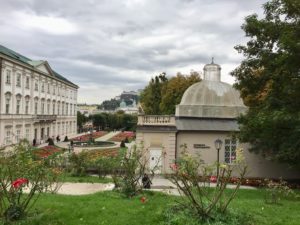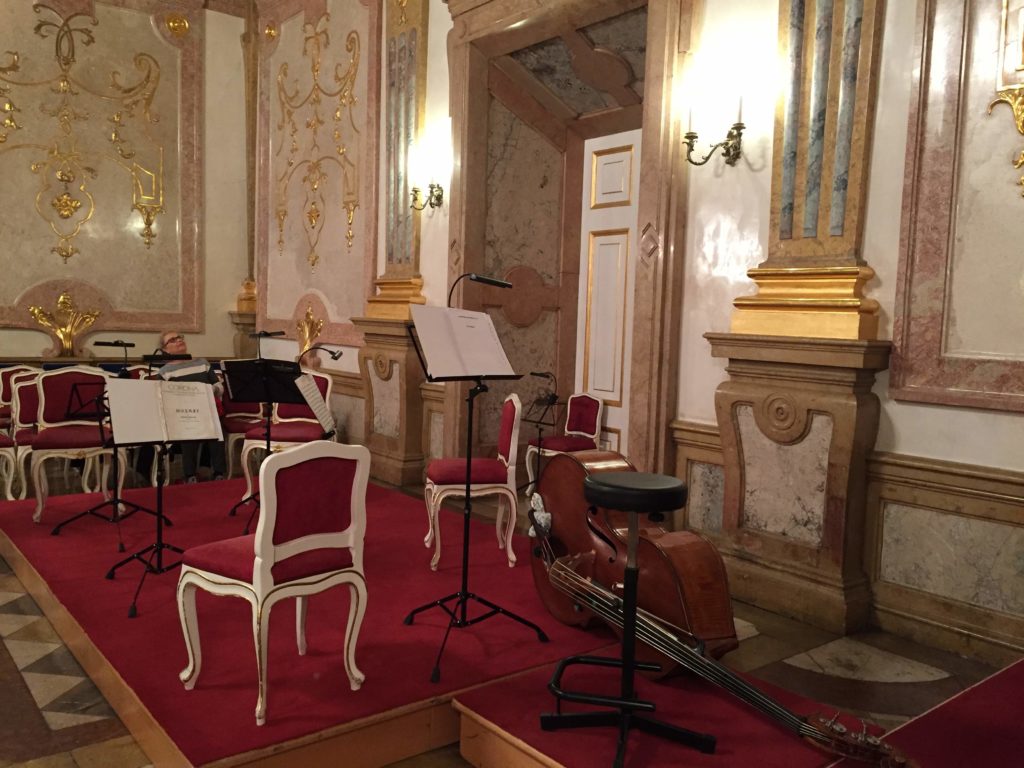 We arrived early at the concert just before sunset so we could walk around the palace gardens. The gardens were not as extensive as we thought they would be and there were few flower beds and fountains. However, the elegant Marble Room and concert more than made up for it. There were three violinists, a cello player, bass player and a Mexican guest guitarist who was excellent. We thoroughly enjoyed it.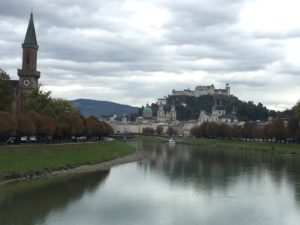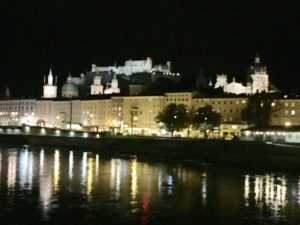 Please follow and like us: