City of Lights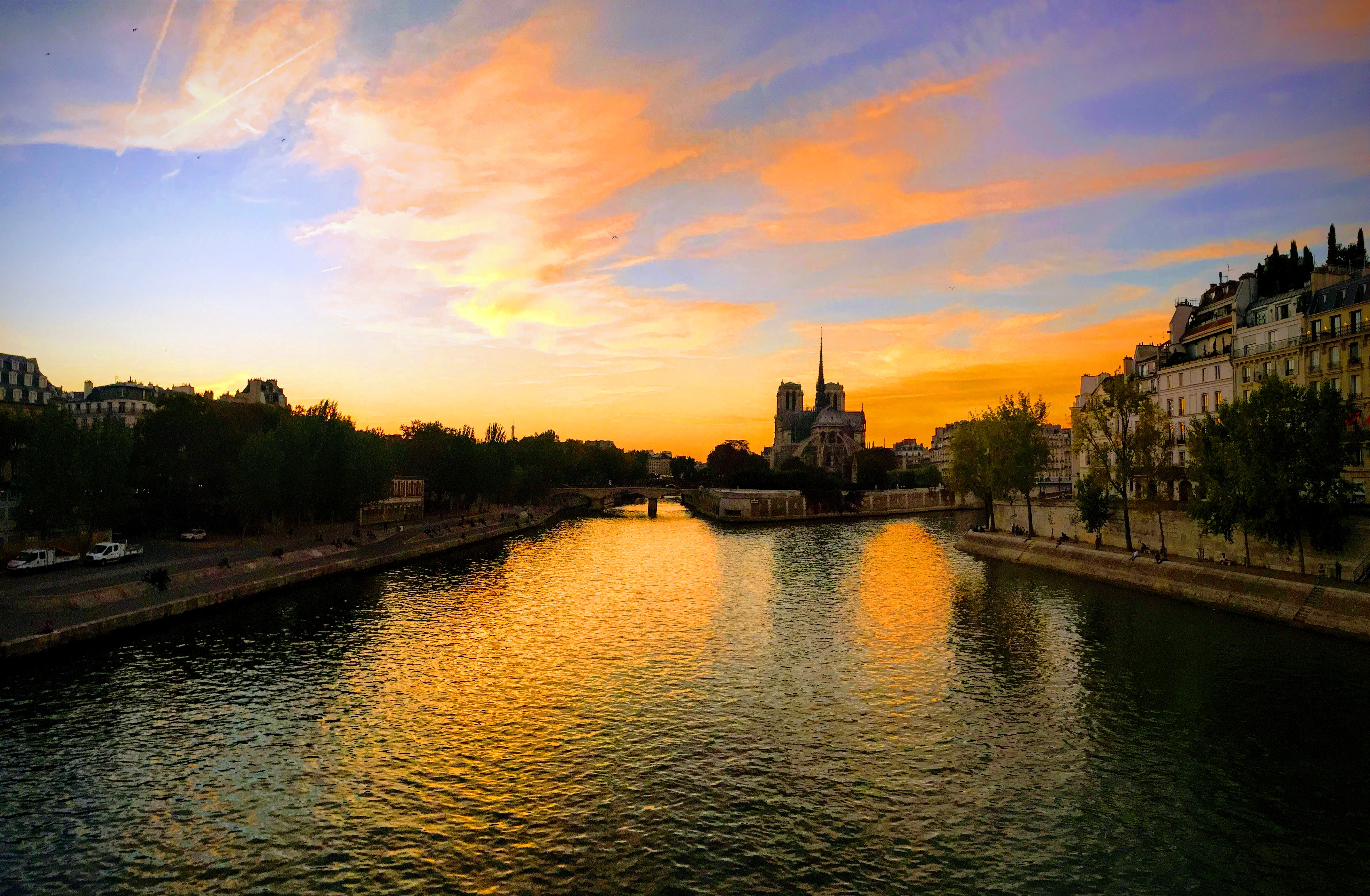 We arrived in Paris on the 9th of October on Austrian Airlines Airbus 320 from Vienna. We noted that the seats in Business Class looked the same as Economy. . . definitely not worth the extra money.
Our apartment on Quai Bethune Ile Saint Louis turned out to be a disappointment for $270 daily. It was regrettable that the loft on Rue des Archives had fallen through. The Guest Apartment Services agency could not be faulted since they were most responsive to all complaints.
The apartment was called TULIP. It was supposed to be about 550 square feet but seemed smaller. It was a first floor walk up through a quiet inner courtyard filled with plants. The apartment was in an old, traditional building with crossed-hatched sloped creaking floors and three large windows opening on the inner courtyard. It was furnished with some antique pieces and a black leather 2-seater love seat and a matching armchair,  a coffee table and an alcove with a double bed probably used for children. There was a good sized bathroom with a tub and shower combination and large pedestal sink. It definitely needed updating. The toilet was in a separate tiny space the size of an airplane bathroom with a minuscule corner sink with a cold water faucet. The toilet seat was chipped. It had to be at least 50 years old. 
The bedroom was an adequate size with an ancient armoire, comfortable king size bed, decorative fireplace, two night tables and small desk and chair. Since it faced the courtyard it was extremely quiet at night.
Our first showers resulted in calling the agency to inform them that the tub was not draining and the shower knob was leaking profusely. We went out for the afternoon and returned to find that someone had been in the apartment to fix the drain. We were told not to use the shower until later that evening. Fortunately, French Drano worked like a charm.
We also discovered the oven didn't work when we tried to heat up our lunch. It was reported to the agency. Clearly the owner had not been maintaining the apartment as you would expect for the price. Even the agency noted that the owner did not want to spend the necessary money to update the apartment. We were paying for location, plain and simple. Ile St. Louis is probably one of the most expensive areas in Paris. I have to admit it was pleasant coming back to the apartment over the bridge after a full day of walking leaving the traffic behind. Ile Saint Louis was a quiet oasis in the middle of the Seine which passed it on either side of the island. Crossing over Pont de la Tournelle each day with a distant view of the Eiffel Tower was always an exhilarating moment.
The kitchen (and I'm being polite to call it that) was minimal. It had an average size refrigerator by French standards with the door opening the wrong way, a chipped white porcelain top stove with 4 burners, a sink, microwave and toaster sitting on top of the washing machine. There was virtually no counter space. A minute 2-person table was used to provide a surface for preparing food. The kicker was the dishwasher which was located in the area under the stove in place of the pan drawer. It was a feat in ingenuity to install it there and back breaking attempting to use it. We doubt anyone had ever tried. The kitchen needed to be completely gutted.
Our first dinner was at a charming restaurant on Quai de la Tournelle called Auberge Notre Dame.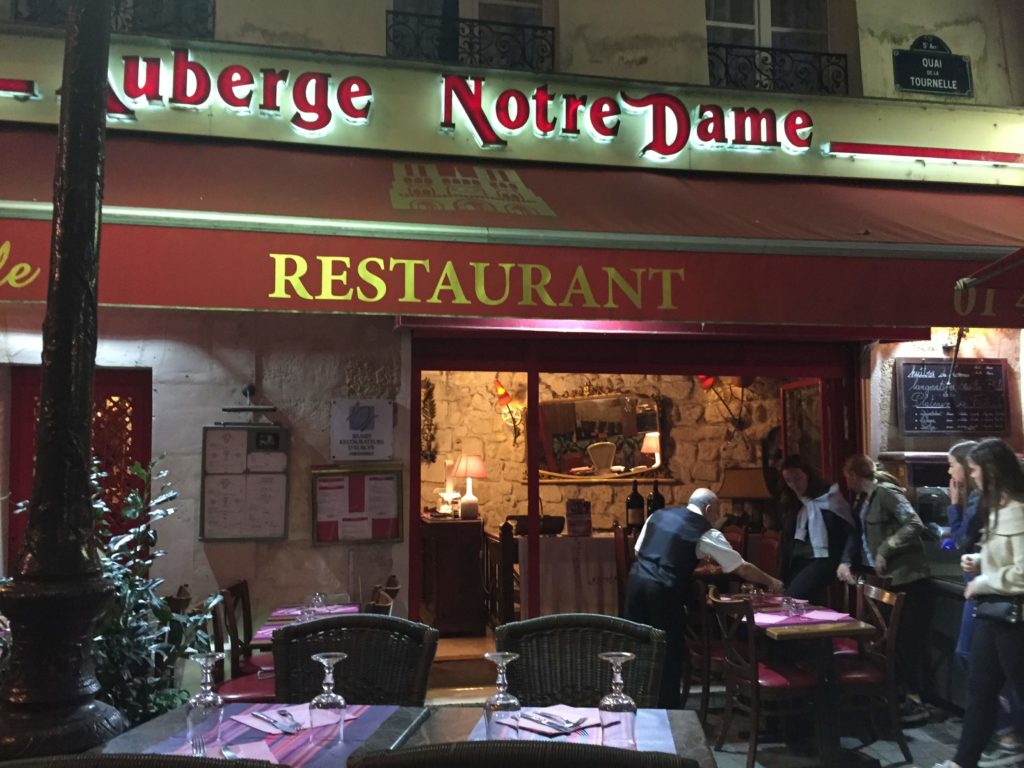 The restaurant was a fixed 20 Euro menu. Claude had onion soup, lamb chops and a chocolate mousse. I had a very nice prawn and avocado salad, chicken in a cream sauce and a tarte tatin for dessert. With wine and water it was 60 Euros and we thought it was good value for what we had and very tasty.
The evening was mild so we sat outside next to two American couples from Queens… Jill, Jim, Jim and Ina. They were very funny and we had a good time talking to them and ended up going home with them to see their apartment which was around the corner. It was a delightful ground level two bedroom 2 bathroom for $524 a night on VRBO with an updated kitchen, separate washer and dryer and a large patio. The only issue was the second bedroom and bathroom which were up a flight of steep stairs. The living area was open and charming with a curved ceiling. The bedrooms and bathrooms quite small. 
The following day we tried to find a place to buy prepared foods since there was no way we could cook in the kitchen. We had a tough time finding anything nearby. Claude remembered a market area we had gone to when we rented in the Marais. We ended up with oeufs en gelee one with ham and one with salmon, half a roasted chicken fermier, a macedoine salad (cut up fresh vegetables in a mayonnaise sauce), a ficelle bread and 2 pastries. The chicken was dried out and the macedoine tasteless. It was a disappointing meal.
We went to the d'Orsay Museum to see a special Picasso exhibit from the Blue and Rose periods, my favorite periods. It was crowded as we expected, but we thoroughly enjoyed the exhibit.
We also purchased tickets online to the l'Atelier des Lumieres for the light and sound show of Gustav Klimt and the Vienna Secession movement. We were well acquainted with Klimt's paintings from having seen his exposition in Vienna. It was an amazing technological accomplishment animating his paintings in a darkened exhibition hall. 
One of our best meals was at Les Papilles at 30 rue Gay Lussac. It was a fixed price of 36 Euros for the day's menu (no choice). A reservation was necessary for the tiny restaurant which handled 60-80 meals per sitting. We went to the 7:00pm seating. The meal started with a covered tureen of delicious potato soup. The bowls were prepared with lardons, croutons and crème fraiche with a bouquet of thyme on top. We ladled the soup on top. It was the best potato soup I've ever had. We then had chicken with cream sauce similar to what I had at the Auberge the first night but with an added elegance and refinement. It was served in a copper pot and we helped ourselves. It was tasty and filling. The chocolate mousse dessert was a disappointment. It was more like a thick pudding with a crumble on top and really needed cream or whipped cream to cut the density. I regretted not asking for some cream. We selected our own bottle of wine which was laid out in a wine case along the wall with prices visible. There was a 7 Euro corkage surcharge which was very reasonable. We had a delicious Sancerre and drank the entire bottle!
The Maillol Museum was also on the schedule which was having an exhibition of Alberto Giacometti's sculptures. He's one of my favorite sculptors. The museum had Maillol's paintings and sculptures with a few sculptures by Rodin, Brancusi and Lipschitz. It was a day filled with art appreciation.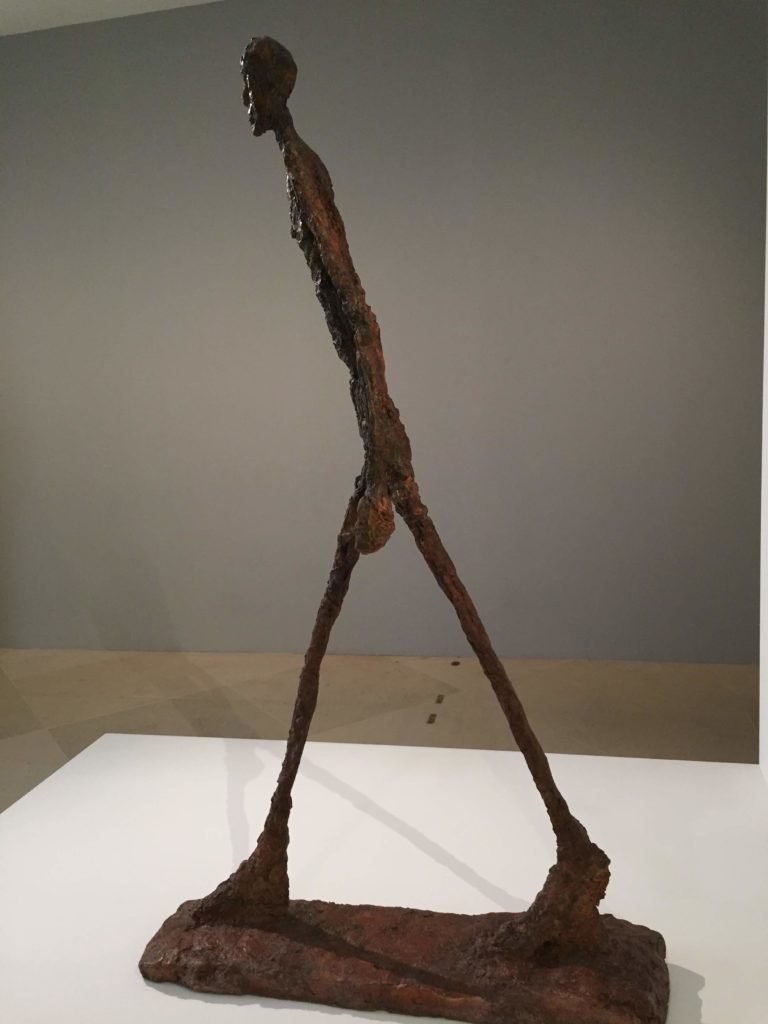 Please follow and like us: