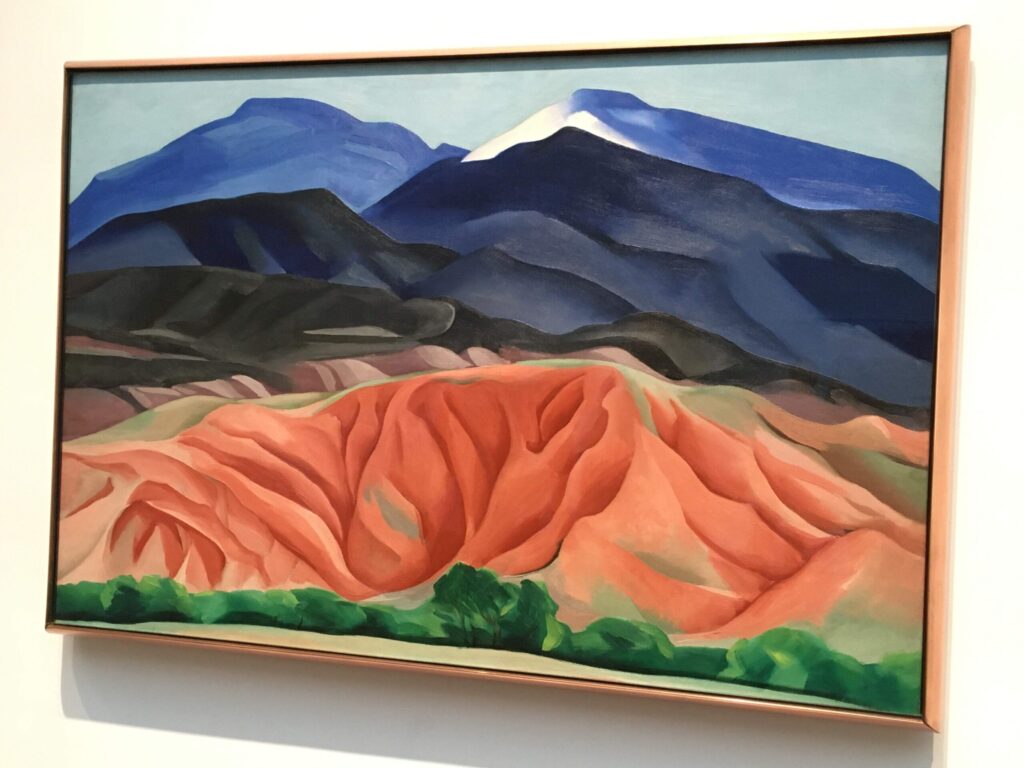 Our itinerary included a seven hour drive to Santa Fe from Scottsdale. It was a particularly windy day and tumbleweed and errant weeds blew across the highway. At times it was difficult to see the road as the dust and sand struck the windshield in waves. Dust storms must have been one of many hardships encountered by wagon trains on their westward trek in the 1800's.
Along the way as elevations changed, we passed through forests of evergreens near Flagstaff to the desert landscape of scrub and cacti closer to Albuquerque. Sheer cliffs and outcroppings of multi-colored rock formations followed us to Santa Fe. It was clear this route was used to transport commercial goods via truck and train. We watched multiple trains following one another ambling across the terrain some with four locomotives and over 150 freight cars. The numerous trucks were difficult to pass on the 2-lane highway particularly when one truck driver decided to pass another truck blocking the roadway. It made the trip more time-consuming than we had anticipated.
We traveled through Navaho, Hopi and Pueblo Indian reservations. Huge billboards advertised trading posts, gas stations, casinos, and Native American souvenir shops. We noted that the homes on the reservations were small ranch houses and shacks, many in serious disrepair leaving a general impression of impoverishment. Sadly, The Heard Museum had given us an historical perspective on the travails of the Native American Indian population over the years.
The hotel reservations were at the Governors Inn on West Alameda in the downtown area. We wanted to be able to walk to all points of interest and the Inn was centrally located. The hotel was once a motel and it is worth mentioning when making a reservation to ask for a room in the main building if you value privacy. Otherwise you may get a room that is in the section with a long, open corridor; anyone walking by can see directly into the rooms.
Our room had a corner fireplace and a southwestern flair accessorized with Navaho artwork and heavy, wooden Spanish Colonial style furniture. It was quite charming. We enjoyed a log fire every night we were there. It is something I miss since moving from New England to Florida.
Breakfast was included in the room rate and it was good and plentiful with many choices hot and cold. Each dining area had a welcoming fire in the fireplace making it very pleasant to linger over your morning coffee.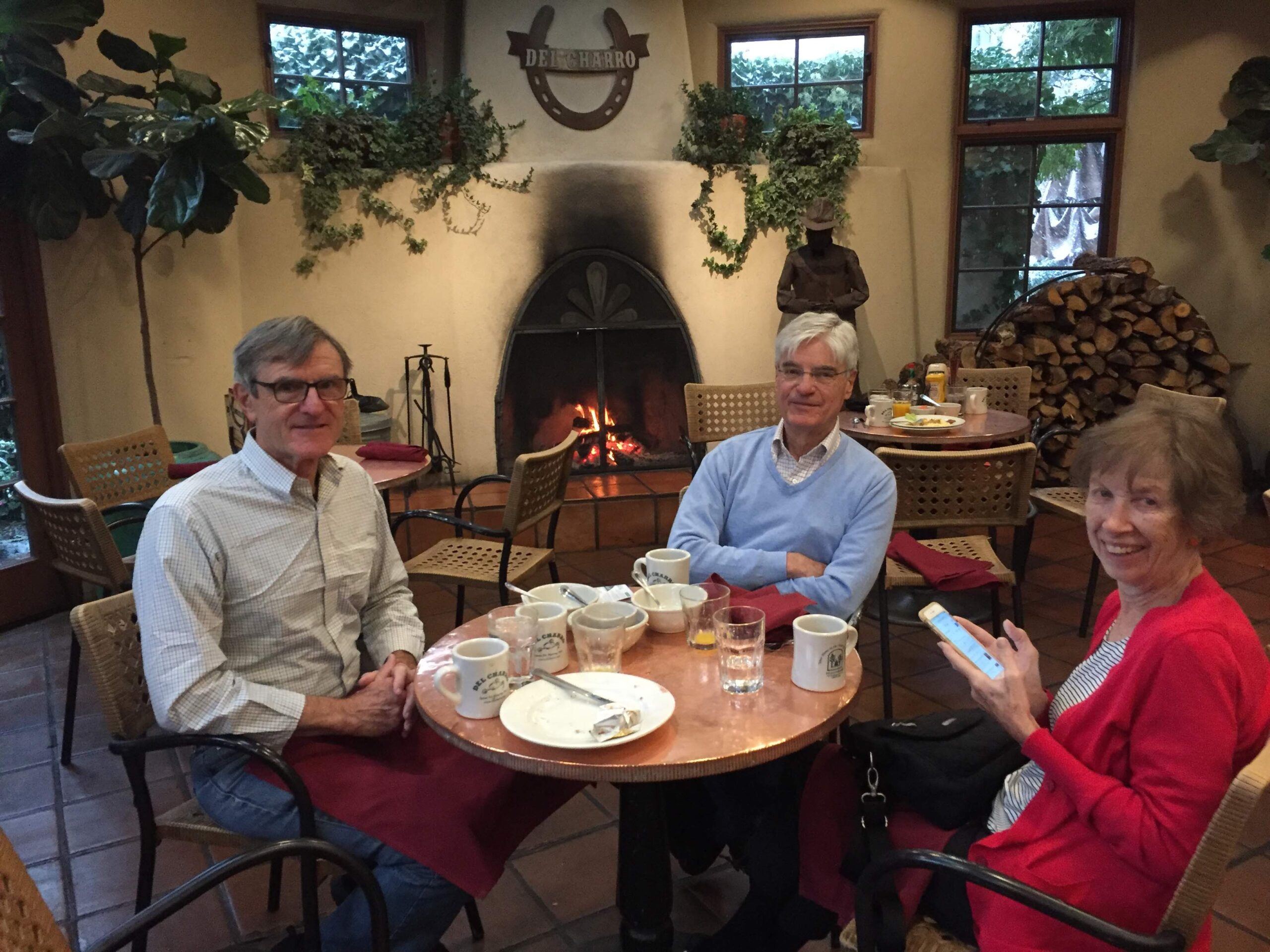 We watched snow falling from the windows one morning. The temperature dropped from the 70's in Scottsdale to the 20's and 30's in Santa Fe which is 7200 feet high. My flimsy gloves and scarves were put to good use, but when the temperature dipped to 17 degrees one night, I decided to buy a Nepalese cashmere shawl at the museum shop. It kept me delightfully toasty!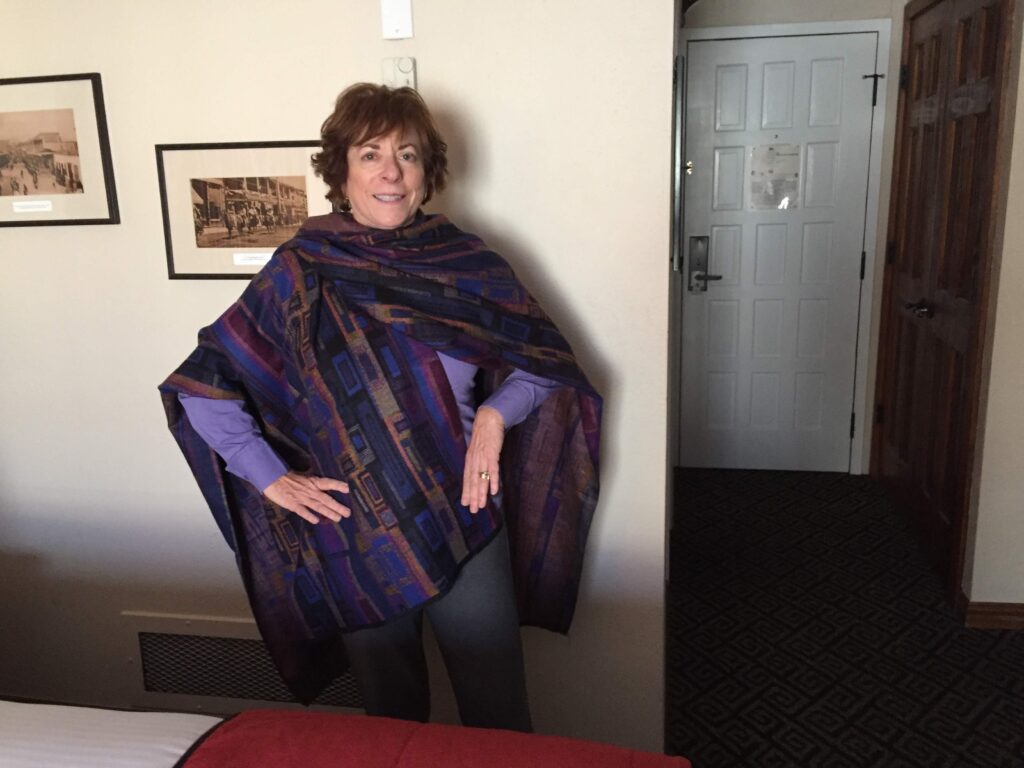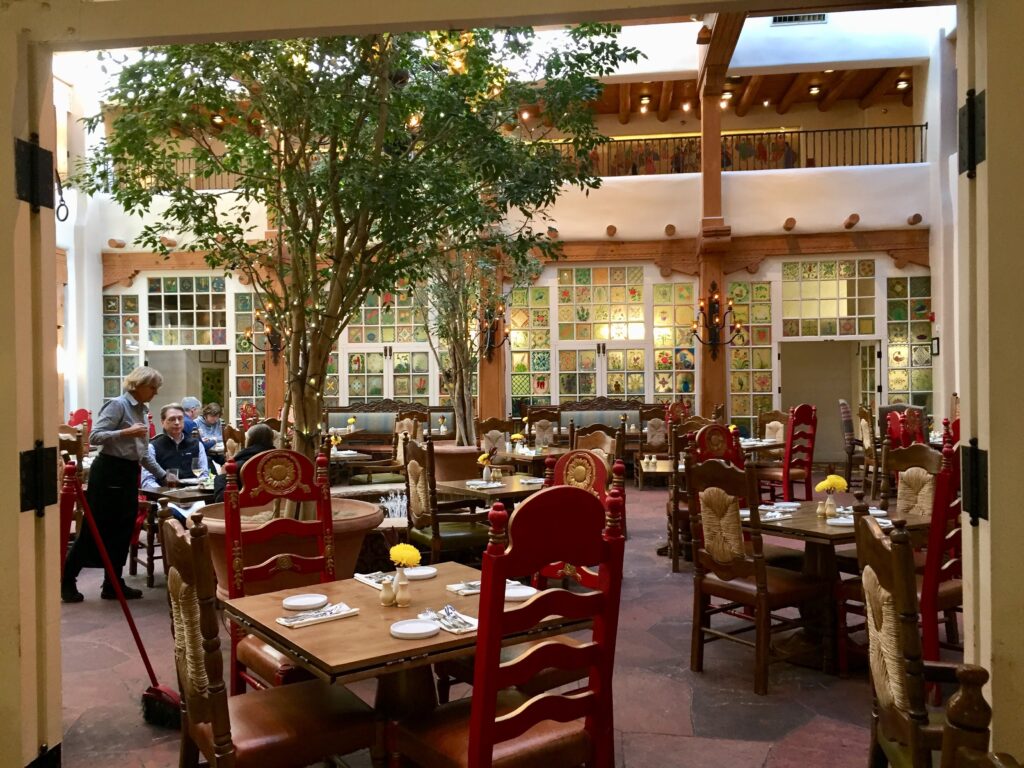 Santa Fe has been a destination on my bucket list for years. I always wanted to go to the Georgia O'Keefe Museum, visit the Canyon Road art galleries and Native American jewelry artisans that make Santa Fe so special. The vibrant art scene continues to draw thousands of visitors every year.
The New Mexico History Museum provides excellent exhibits chronicling New Mexico's turbulent history of military skirmishes and lawlessness finally culminating in statehood in 1912 to become the 47th state. It also includes the entire history of the Manhattan Project at Los Alamos during World War II, the scientists who participated in it, descriptions of their secretive daily lives, and the spy who stole critical atomic secrets for the Russians.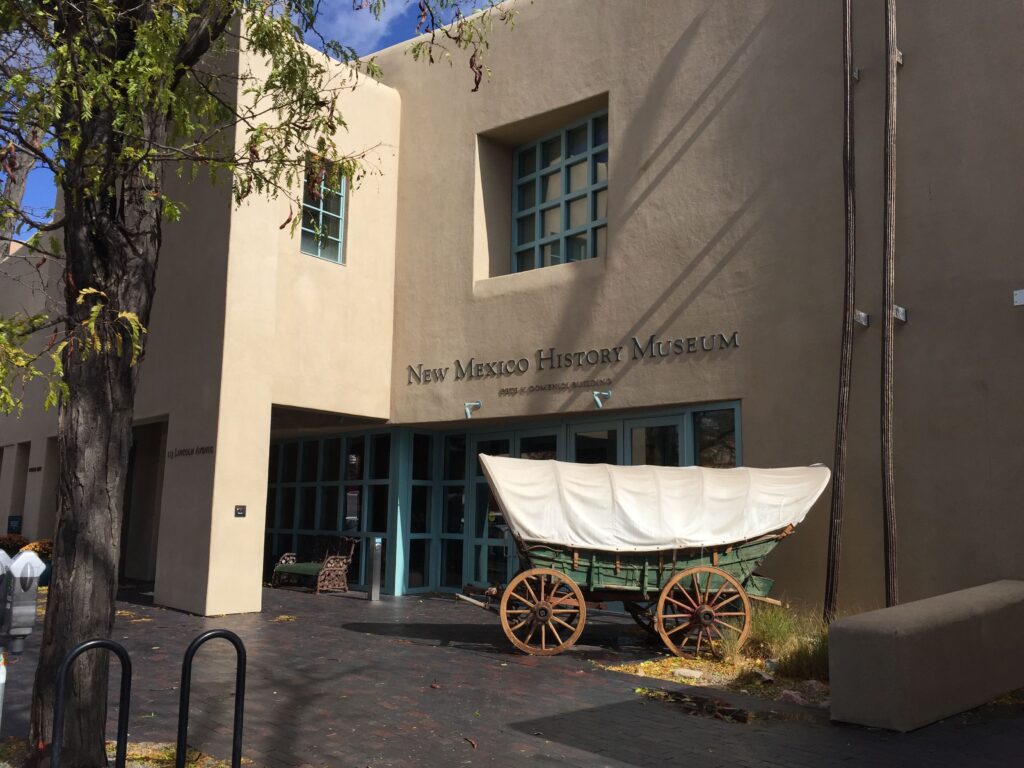 Another amazing museum is The International Folk Art Museum. It houses a remarkable collection of miniature figures representing 150 countries donated by Alexander Girard, an American interior designer. It is the world's largest folk art collection consisting of 150,000 artifacts and is a must see for anyone visiting Santa Fe.
The low profile adobe building blends seamlessly into the southwestern landscape and it is worth sitting outside to fully appreciate its beauty. The adobe architecture of the buildings and homes is striking for its unusual uniformity. There are no high-rises to interfere with the vistas of sky and surrounding mountains.
A museum highlight was the Georgia O'Keefe Museum however, the exhibit did not seem extensive enough and I left yearning for more.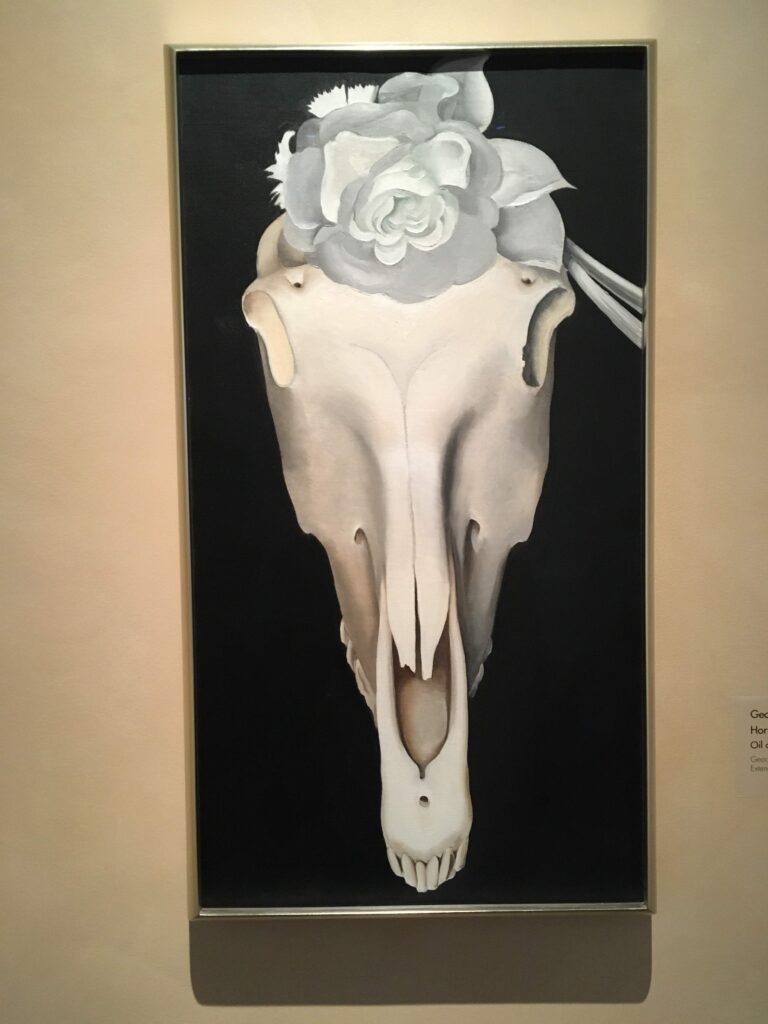 The receptionist in the hotel suggested we make a visit to the New Mexico State House to see their interesting art collection. We immensely enjoyed the eclectic exhibit and thought it was a very good suggestion.
Santa Fe is also known for exceptional restaurants. I was told the low fall season would not necessitate restaurant reservations, however that was not our experience. We arrived on a Thursday night tired and hungry and were turned away at several busy restaurants. We finally wound up at the San Francisco Street Bar. It was virtually empty and we entered with trepidation. It turned out to be one of the best meals we had during our four night stay. The service was exemplary, it was refreshingly quiet, and the food and presentation were topnotch. The ahi tuna was outstanding.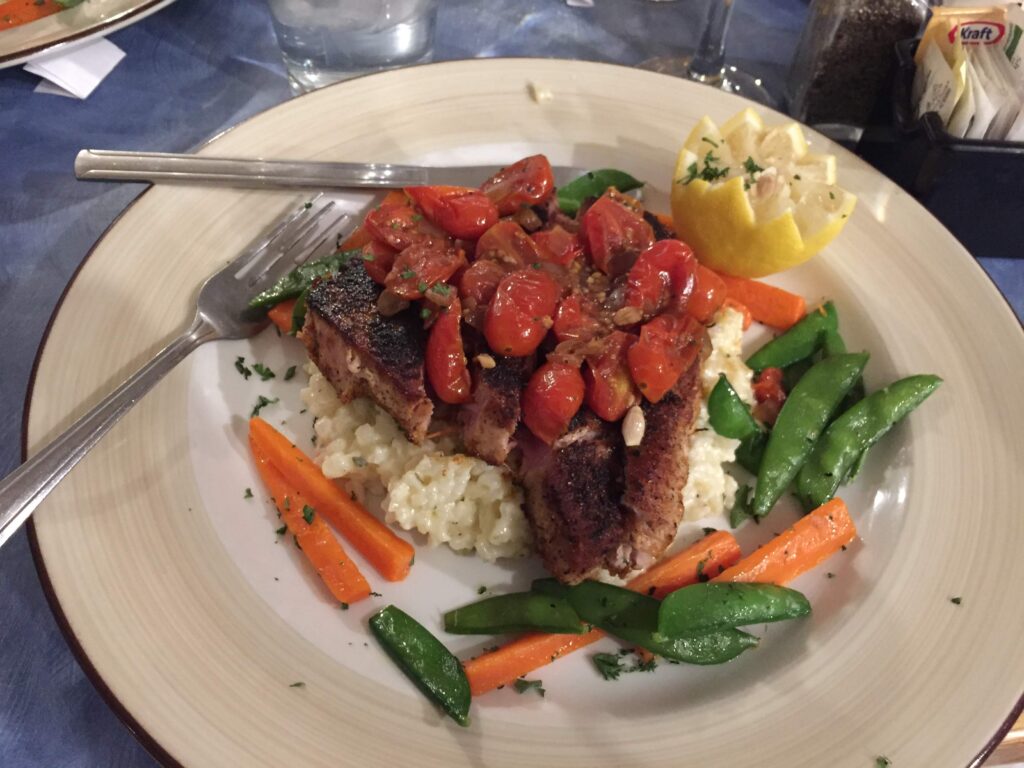 After full days of visiting art galleries and museums we stopped for late afternoon hot chocolate and pastry. I can heartily recommend two spots, Henry and the Fish and the Kakawa Chocolate House. Prepare to be overloaded on rich, thick hot chocolate decadently topped with mounds of whipped cream. It tasted much like European hot chocolate.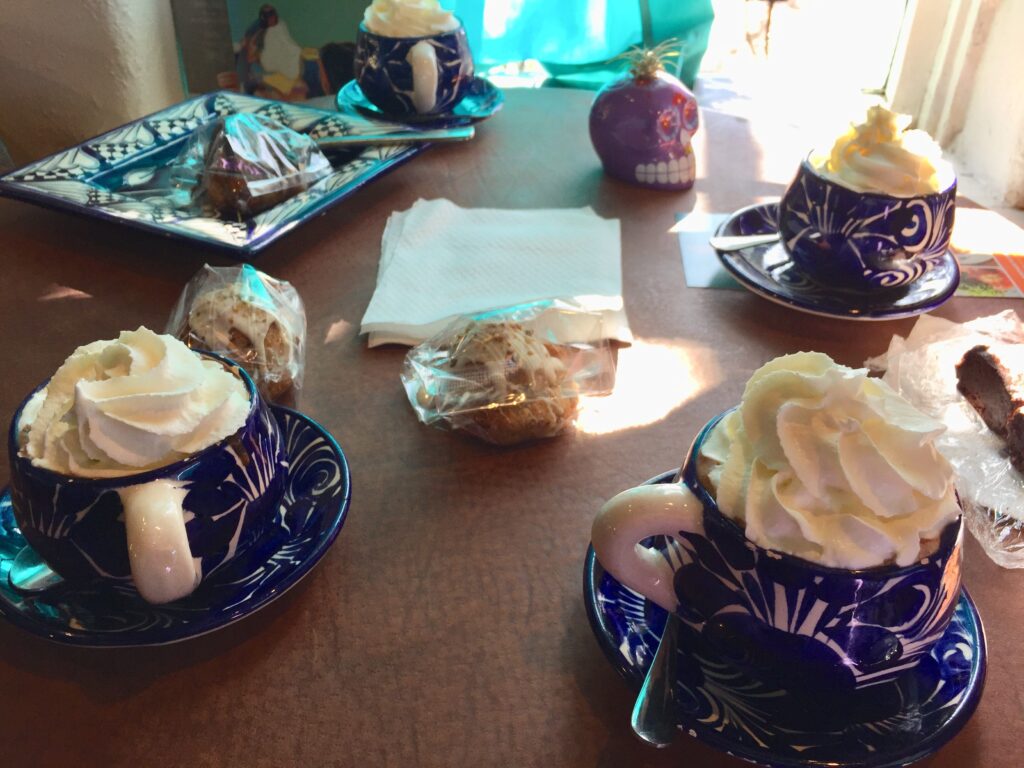 We had dinner one night at the highly popular Cafe Pasqual, a five minute walk from our hotel. The adobe building has an inviting interior with southwestern character, high ceilings, exposed wooden beams and decorative chandeliers. The service and presentation were very good, but the food did not measure up to a price tag of $364 with wine and tip. Perhaps it is a better choice for breakfast or brunch.
La Boca was one of our favorites for Spanish tapas and live guitar music. Everything we ordered from the pear and reggianito salad to the gambas al ajillo was delicious. It's a small, intimate restaurant ten minutes from the hotel and it tends to get loud but manageable. A reservation is highly recommended.
For our farewell meal we opted for French food at Bouche Bistro. It was the night that temperatures dropped to 17 degrees with a wind chill even lower. The bitter cold walk recalled visions of Arctic explorers trudging through the wintry wilderness. I was experiencing high altitude breathing issues made worse by the piercing wind and my mobility ground to a snail's pace. Instead of a warm, cozy restaurant, we were greeted by an open door emitting a smoky haze; the extractor fan in the kitchen was malfunctioning. The patrons in the restaurant ate dinner wearing their coats as the wind and cold air billowed through the dining area. It did not leave a good impression, and in fact I was so cold I could not enjoy my dinner of three plump scallops on a bed of risotto.
I would certainly like to return to Santa Fe again to attend the outdoor opera, browse more galleries and sample more restaurants and of course enjoy another delightful hot chocolate with extra whipped cream. But next time I'll try to get there before winter.
Stay tuned for Sedona.
Please follow and like us: