View from Linzerhof Platz
Zurich
The Zurich airport was modern and well designed. The signage was easy to follow and we had no trouble retrieving our luggage quickly and proceeding to the train ticket machine. Claude had prepared himself well before leaving on our trip by watching videos of the airport and he knew exactly where to go and what to expect. Everything was well marked and easy to find. The only screw-up was using the ATM machine to get Swiss Francs and inadvertently getting 50 Franc notes instead of smaller denominations. Note that Switzerland is not part of the EU and Euros are not their currency. It meant having to find somewhere to get change since the ticket machine only took smaller bills. Claude asked someone at the duty free shop for change only to be turned away unless he bought something . . . not nice.
Once we had the tickets it was smooth sailing. The one-way second class tickets were 6.80 Swiss Francs per person for a 10 minute ride to the main train station in Zurich. If we had taken a taxi it would have cost 60-80 Francs. On the train platform we tried to validate our tickets as we had read, but our tickets were too large for the machine. We asked someone standing on the platform who told us validation wasn't necessary since we had just bought the tickets and a time was already stamped on them.
The train was spotless and uncrowded. An Austrian tax lawyer living in Lichtenstein sat across from us and chatted about Switzerland and gave us some valuable tips on Zurich. 
Zurich is a very livable city. The electric trams are quiet, there aren't any trucks or motorcycles in the center, the streets are clean and the buildings free of graffiti unlike many other European cities. The city is expensive and upscale. Bahnhofstrasse, the main commercial street was lined with designer stores and pricey coffee houses.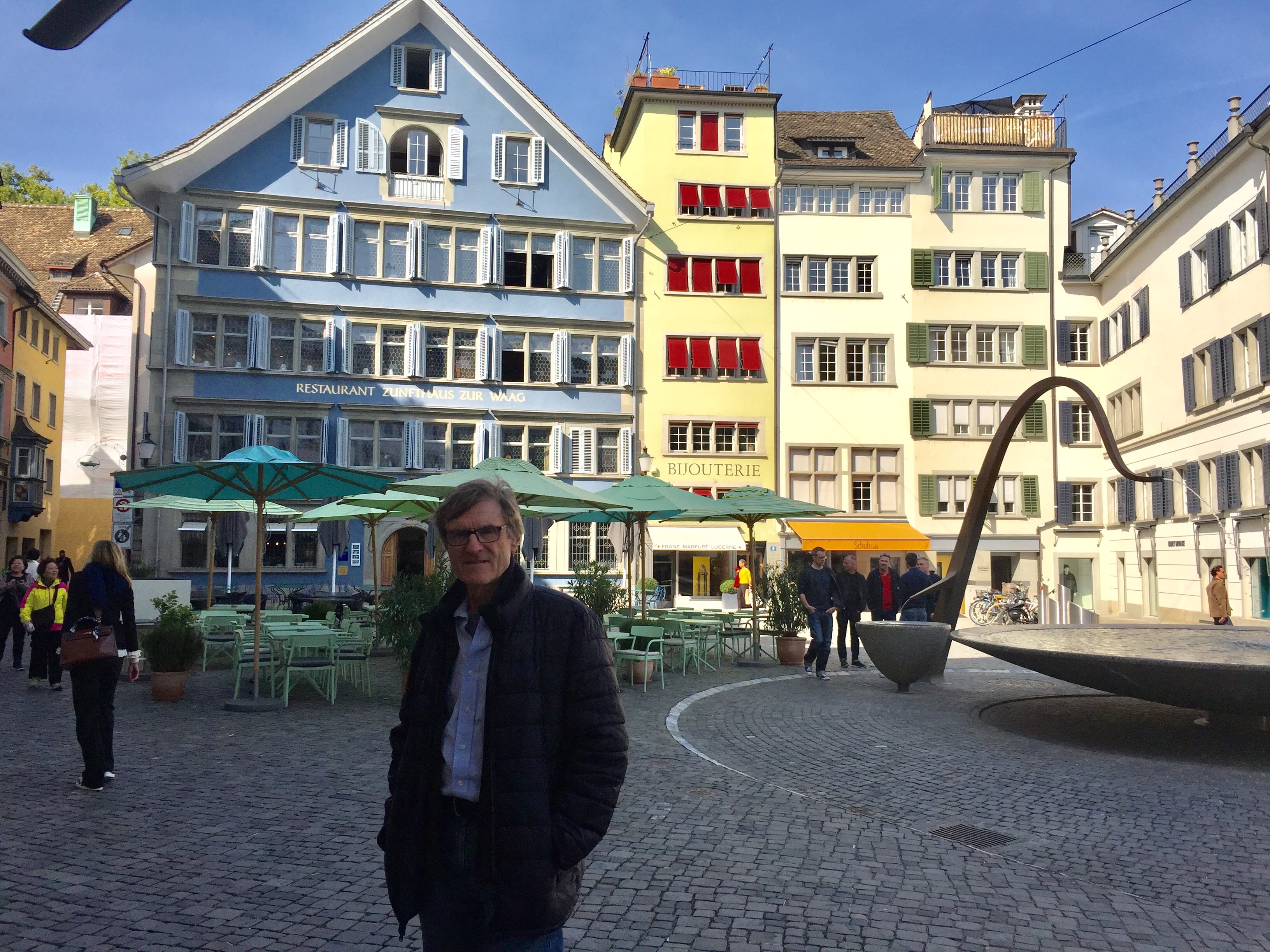 I had chosen Hotel Helvetia for its central location walking distance to the old historical section of town. The room was fairly basic and minimalist in style . . . no carpeting, tiny computer table, a good sized closet with shelves and a contemporary bathroom with a nice shower and plenty of hot water. The beds were extremely comfortable and were made up with double duvets instead of cover sheets. The Swiss are famous for preparing beds with duvets for utmost comfort. We were on the 4th floor with a view of a canal and casino. The windows were well insulated and the room was very quiet. There was a library on the first floor with an espresso machine and an abundance of reading material for hotel guests.
We walked around the old town for the first afternoon and walked past the Grossmunster and Fraumunster churches, the guild houses on the Limmat River and continued down to the dock to review boat schedules. We decided to stop in a cafe along the Limmat for drinks before dinner.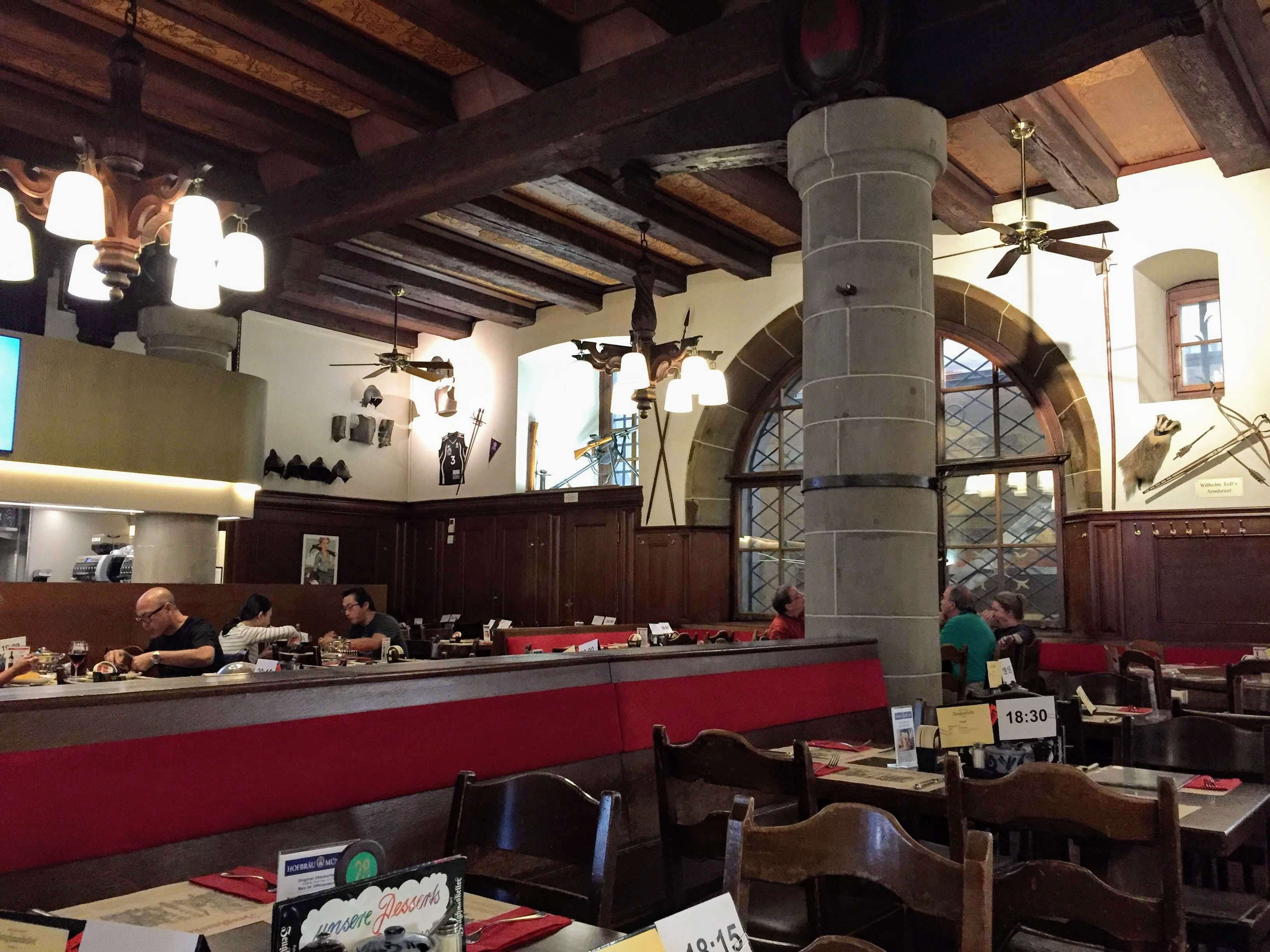 Our dinner reservations at the Zeughauskeller at 28 Bahnhofstrasse was at 7:30. It was a traditional beer hall dating back to the Middle Ages. We walked in early since we were exhausted from our flight and wanted to eat and go to sleep instead of waiting until 7:30. It was fairly empty when we arrived and we were seated promptly. We shared a butter lettuce salad with hard boiled egg gratineed. We agreed it was a nice touch from a standard salad. I had a traditional Swiss dish with pork shank and potato salad. Claude had another traditional dish of sauteed veal in a mushroom cream sauce with rosti (hash brown potatoes). The portions were HUGE and we were only able to finish half our dinners. The potato salad was vinegary unlike a normal mayonnaise base potato salad, but it was good. It was a hearty meal, not gourmet and not cheap. It cost about 84 Swiss Francs with a glass of wine and no dessert. The interior was particularly atmospheric with historic artifacts hanging on the walls, large chandeliers and long wooden tables.
The following morning we had breakfast at Babu Cafe rather than spending 25 Francs per person at the hotel. The cafe was bustling and crowded. We were lucky to get a table without a reservation. I ordered oatmeal with cranberries and a latte macchiado. The oatmeal was thick like porridge and tasty with the addition of sweet, dried cranberries. I'll have to remember that when I make it at home. Claude had a hot chocolate and a croissant. It came to 22 Francs.
We took a 1 ½ hour boat ride around the lake. The weather was wonderful. . . sunny and in the 70s. . . a perfect day for a ferry ride. The boat was a commuter ferry so we were able to see the local architecture in the towns along the lake shore. It was an inexpensive way to get a boat ride on the lake. We walked around the old town and stopped into the Schwarzenbach confectionary to check out their wide selection of dried fruits, nuts, preserves and chocolates and walked out with a spicy bag of nuts for snacking.
We sat outside at a cafe for lunch and had a delicious red lentil curry soup with potatoes and coconut milk. For dessert we picked up truffles from the famous Teucher chocolatier which were positively decadent. They send their chocolates and truffles all over the world. The narrow streets and pedestrian ways were lined with intriguing specialty shops to explore, restaurants and cafes. For dinner we had reservations at Mere Catherine, a French restaurant which was located at the end of a narrow walkway. We had read it was difficult to find and we walked around in circles for awhile until we found it. It was a mild evening and the outside patio was a perfect spot to relax and watch the world go by.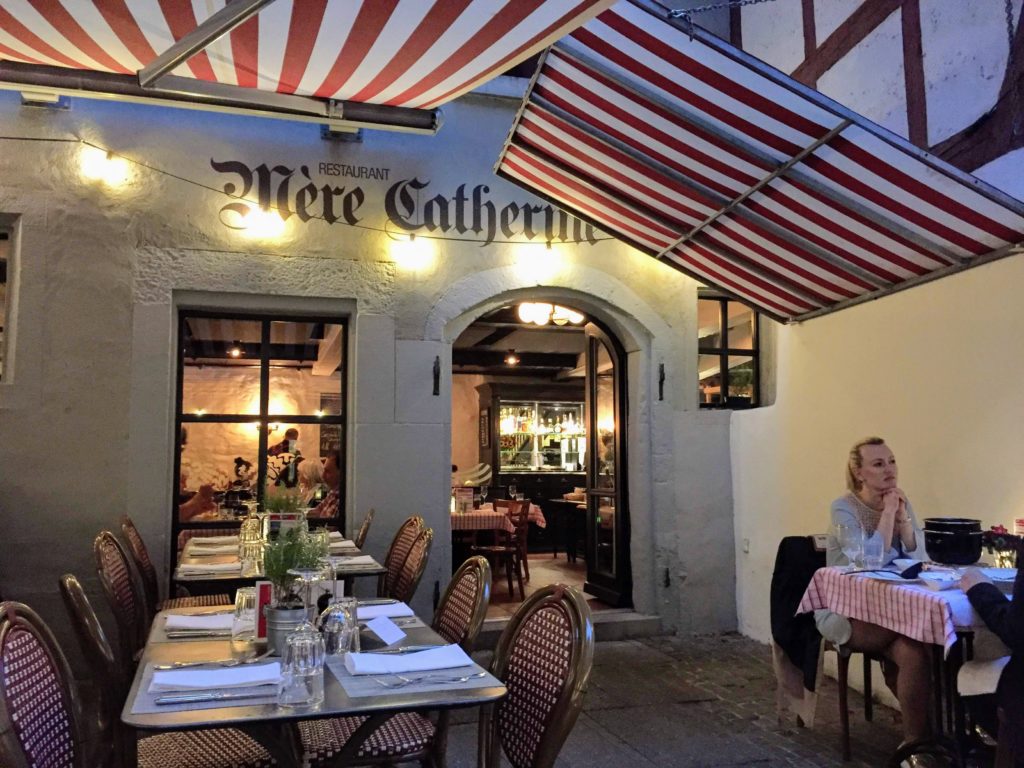 Claude had moule frites and I had sauteed guinea fowl with a curious combination of peppers, tomatoes, olives, onions, anchovies, beans and an over abundance of capers. The dessert was the best part . . . we shared a homemade mille feuille with currents and figs. 
On our last day we climbed the steps to Linzerhof Platz which had a stupendous view of Zurich and the Limmat River. Afterward we had hot chocolate, a leek tart, nut scone and a chocolate cookie at the Delish Cafe located in the Marktgasse Hotel. The cafe was cozy and casual with young professionals enjoying their lunch break while working on their computers. We decided the pastries were disappointing. The prepared salads looked good and might have been a better choice.
Our last dinner was at Nagasui, a Chinese restaurant a few blocks from the hotel. We both agreed it was our best dinner. It reminded us of Barnard's, our favorite Chinese restaurant in the Boston area. We had vegetable spring rolls and a spicy chicken dish with peppers, onions and scallions. It was excellent.
From our brief three days in Zurich we decided it was certainly as expensive as we had expected, but surprisingly picturesque and charming. The Old Town felt like a small, walkable city within the larger commercial, financial center of Zurich. We spent much of our time sampling the food and chocolates and came to the conclusion that we preferred the international restaurants to the Swiss traditional restaurants which had a heavy emphasis on meat and potatoes. The chocolates were definitely the highlight!
Please follow and like us: