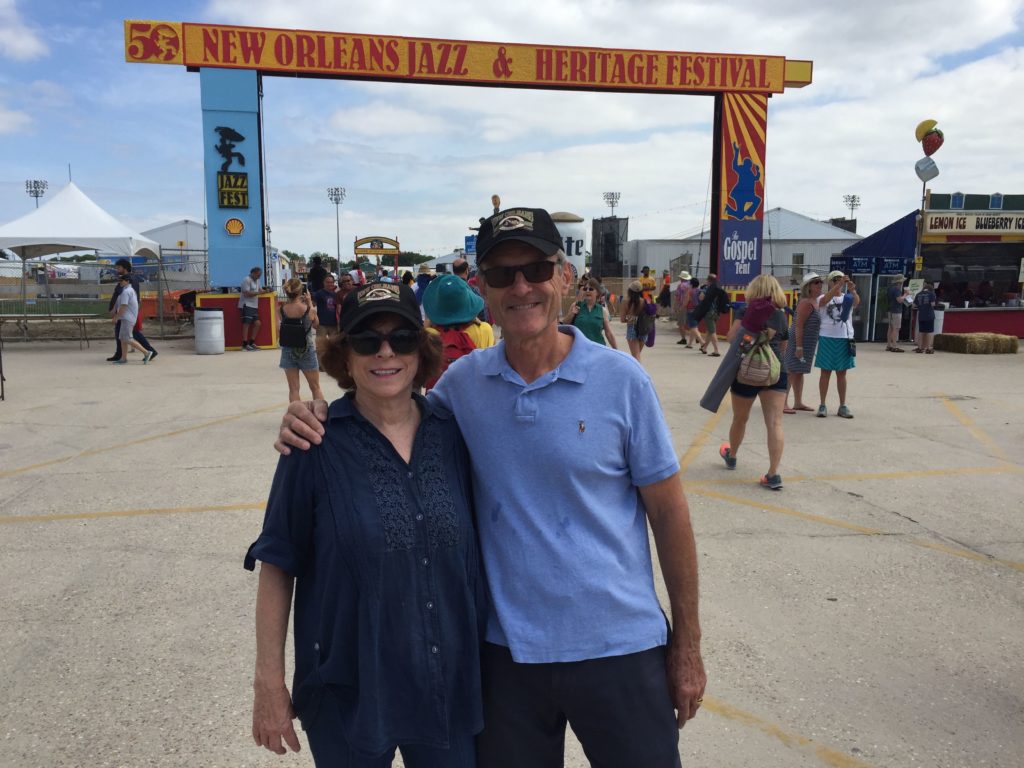 Jazz Fest 50th Anniversary
Day 1
Today we took a non-stop flight from Ft. Lauderdale to New Orleans on Southwest Airlines. It was an early morning flight, so we arrived in New Orleans at 8:30am. We were staying at the Dauphine Orleans Hotel on Dauphine Street in the French Quarter and grabbed a taxi for the 20 minute ride to the hotel for a fixed price of $36.00. When we arrived at the hotel the taxi was unable to drive down Dauphine since there was a firetruck and two EMT units sitting in front. There was obviously a medical emergency at the hotel. Our timing was off.
We exited the taxi and rolled our suitcases down the block. It was clear the receptionist was totally overwhelmed when we entered the lobby along with a crowd of people. She had a panicked look on her face and told me our room would not be ready until 3pm and we could not check in early. It was 9:30am. After not getting much sleep the night before I was not looking forward to the long day ahead of us without being able to unpack and rest beforehand. She directed us to a hotel employee in the adjacent garage who safeguarded our luggage until check-in.
We now had to decide what to do until 3:00pm. We started walking down Dauphine to Conti and slowly made our way over to the mighty Mississippi. Wherever we travel, the first destination is to seek-out the water, be it river, lake or ocean. It has become a tradition. The muddy Mississippi offered a wonderful breeze as we walked along. There were joggers, walkers and a band or two on the Riverwalk. The street near the river was filled with souvenir shops, clothing stores, praline shops, bars, restaurants, etc.
New Orleans still hasn't fully recovered since Hurricane Katrina in 2005. We were surprised by the number of homeless people and panhandlers in the streets. There were also many buildings waiting for restoration and streets to be cleared of litter, but even those things did not deter from New Orleans vibe, its friendly people, excellent food, and music on every corner.


After a few hours of walking it was time to locate a place to sit down, relax, and have brunch. It was only 10:30am. Luckily we stumbled upon"Tableau" at 616 St. Peter Street. It looked inviting through the windows, and we discovered a lovely inner courtyard with the soothing sounds of a fountain, ivy-covered, columned facade, and wrought iron furniture—a perfect retreat from the cacophony of noise coming from street side. The menu had many delicious choices. We opted for the Eggs Tableau—two poached eggs on a homemade biscuit with honey, ham, and hollandaise sauce. What a wonderful combination! I definitely recommend this restaurant.
After brunch we continued our walk until my feet felt numb. Back at the hotel, the receptionist had calmed down after the 911 emergency and explained she was the only one on duty at the time of the incident. She apologized and said our room still wasn't ready, so we decided to sit by the pool. By 2:00pm we were happily ensconced in our room.
The hotel is in the process of renovation. Unfortunately our section had not been completed, but it was quiet since we had requested a room away from bustling Dauphine Street. The staff was friendly and helpful and once renovations are completed, I would not hesitate to recommend it. The boutique hotel had character, was centrally located, had a parking garage, and a small swimming pool.
Faulkner House

Tennessee Williams House
Before going to dinner we walked through the Quarter again admiring the architecture and wrought iron balconies. After consulting a map we found the William Faulkner House and Tennessee Williams House.
The dinner at Café Sbisa at 1011 Decatur Street was delightful. The exterior was unimpressive, however the moment we entered we were welcomed by the sound of live jazz, dim lighting, beamed ceilings and a long, inviting bar with over-sized murals above the bar. We had reserved balcony seating and proceeded up the flight of stairs to the balcony. It was an open balcony forming a U with a view of the murals and downstairs bar as a focal point. It was a peaceful spot to enjoy dinner compared to the hustle and bustle we observed on the main floor.
The service was very attentive. The fresh fish of the day was grilled or blackened redfish with jumbo asparagus. Claude had the Courtbouillon which was similar to a gumbo with a spicy tomato base filled with mussels, crab, shrimp, and fish. We started with the house salad of mixed greens, feta, and toasted pine nuts and a $30 bottle of New Zealand Sauvignon Blanc—a perfect light and refreshing compliment. For dessert we shared an apple bread pudding with vanilla ice cream and caramel sauce. The bill with tip came to $108. Listening to live jazz downstairs completed an exceptional Saturday night out.
Day 2
We had $75 single day tickets to the Jazz Fest which started at 11:00 a.m. and ended at 7:00 p.m. It was held at the fairgrounds and we bought 24-hour transit tickets for $3.00 which was a real bargain compared to other cities we have visited.
We walked to Canal Street and took Trolley #48 for a 20-minute ride—standing room only. We followed the crowds and reached the fairgrounds in another 10 minutes. The course was well laid out with several entrances. There was seating in multiple tents and standing only in open theater stages. The roster of musicians was displayed at central locations, so it was easy to find the time slots and venues where groups were performing.
Some of the groups we decided on included Maurice "Mobetta" Brown, who was a Grammy award winner for his extraordinary trumpet playing, Walter Wolfman Washington and the Roadmasters, Irma Thomas, and Luther Kent & Trickbag. It was impossible to see every big name performer since Van Morrison, Al Green and the O'Jays conflicted with Bonnie Raitt and the Ellis Marsalis family which were our main priorities. There had to be 90,000-100,000 people there—a veritable mass of people colorfully decked out in tropical shirts, outlandish dresses and fanciful hats.
An array of food vendors were there, offering their specialties to the eagerly awaiting fans. Apparently the annual Jazz Fest provides the opportunity to sample the best New Orleans food in one location. There were long lines everywhere during lunch time. We opted out of eating since we had a 9:00pm dinner reservation at the "Upperline," an uptown restaurant. We should have cancelled dinner but we would have forfeited a $100 deposit—an unusual dinner reservation requirement. For future reference, skip dinner and eat at the Jazz Fest!
We started the day at the Gospel Tent to hear the Zulu Gospel Male Ensemble followed up by the NOCCA Jazz Ensemble in the Jazz Tent, and then on to the Acura Stage to hear Bonnie Raitt who gave a spectacular performance in front of an estimated 50,000 spectators standing in the blazing sun. It was a wonder that people weren't passing out from heat stroke. We also got to hear a once in a lifetime performance of the entire Marsalis family consisting of Ellis who is 84 years old and his four sons all on one stage. They were amazing. Their performance concluded an exhilarating day of exceptional music.
The traffic leaving the fairgrounds was gridlock with thousands of people and cars exiting the Jazz Fest simultaneously, but what a day it had been.
Exhausted and sweaty, we showered, jumped into fresh clothes, and grabbed a cab to make our dinner reservation at 9:00. The "Upperline" abuts the Garden District known for its vintage homes and immaculate streets, but we were unable to see the district in all its splendor since it was dark by the time we got there. The restaurant was in a small, antique house that had been added onto over the years. We sat in a quiet, intimate middle room lined with the owner's art collection and a wall of windows. It was a welcoming respite after the frenetic day at the Jazz Fest.
The menu had a 7-course meal, a 3-course meal and an a la carte menu. We chose the $40 3-course dinner. I had their tangy signature appetizer of green tomatoes filled with shrimp remoulade followed by drum fish meuniere. A crème brulee topped with crumbled pralines ended the delicious meal.
The owner, an older woman who had been running the restaurant for at least 30 years came over to our table to explain the menu, answer questions and engage in conversation. She made sure we were receiving exceptional service and appeared to run the operation like a drill sergeant from observing her interactions with her staff. It had the feel of an old school restaurant with seasoned waitstaff. The decor and ambience were charming. The bill came to $123 with wine. We took the trolley home instead of a cab since the stop was only a block away from the restaurant and after a heavy meal we needed a walk.
Day 3
The World War II Museum was a 30-minute walk from our hotel. For any history buff I would strongly recommend a visit. It has the most extensive collection of World War II memorabilia in the United States. The iMax movie "Beyond All Boundaries" was a good introduction to the exhibits and provided a concise overview to what the country was like leading up to the war.
Fighting Tiger

Ernie Pyle
On our walk back we popped into the "Peche" for a light lunch. I had one of the best, fresh seafood salads. It was an informal restaurant with a lively lunch crowd of young professionals. We didn't have a reservation so we sat at the bar and thoroughly enjoyed a quick, beautifully presented lunch. If we had had an extra night for dinner we would have returned. It was conveniently located down the block from the museum.
We walked back to the hotel to rest up before our last dinner at GW Fins at 808 Bienville Street, a short walk from the hotel. It had been highly recommended and we were looking forward to another exemplary New Orleans meal.
At 7:45pm we entered the very busy and noisy restaurant and were asked to be seated until our table was ready. We noted that the clientele was a mix of business people and tourists. After a few minutes we were taken into a large dining room. It reminded me of an upscale, Parisian brasserie with a high, coffered ceiling supported by columns. A waitress immediately approached the table with menus and returned a few minutes later for our order. We hadn't even had a chance to relax or look at the menus. She clearly wanted us to at least order drinks and we told her to come back. Sure enough she came back within a few minutes to ask us again and waited while we picked out a wine. I felt rushed as though the waitstaff had been instructed to move customers in and out quickly.


I ordered the yellowfin tuna tartare with avocado, wasabi and pine nuts as an appetizer, New Bedford sea scallops with wild mushroom risotto, porcini butter and crispy leeks. Claude ordered scalibut which was a GW Fin original combination of halibut, sea scallops, risotto, snow peas and pea shoot butter. Before the entrees arrived, we feasted on the most delectable homemade biscuits. I could have eaten a dozen or more. We shared a divine salty malty ice cream pie with pretzel crust and caramel whipped cream for dessert.
We selected a Simonnet Febvre Chablis from Bourgogne mainly because Simonet was Claude's mother's last name. When I tried to take a picture of the name of the wine the waitress approached and said she would get me a signed menu by the executive chef. It was a very nice gesture. Even though we were in and out of the restaurant in only one hour, it was a superlative dinner. In fact, it was the best meal we had in our 3 nights in New Orleans and the most expensive at $166.
We ended the evening with a walk down Bourbon Street, the quintessential New Orleans destination.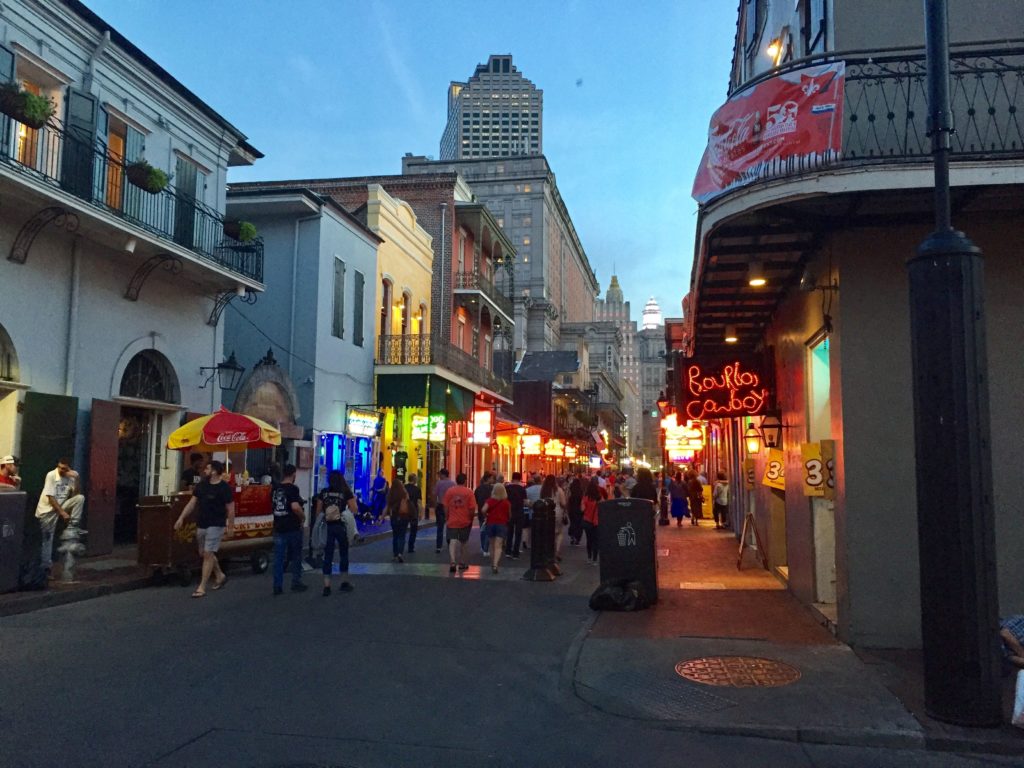 Day 4
We checked out of the hotel at 11:00am and took our last walk around the French Quarter before having brunch at the Cafe Conti, a small cafe inside The Prince Conti Hotel and only a block away from the hotel. It was empty but proved to be a good choice. I had a daily French toast special made with herbs and feta cheese. Claude had poached eggs and grits.
We left the French Quarter with our last memory of why we had been compelled to make a second trip to the "Big Easy"—the music.
Please follow and like us: